Well sealing (sometimes referred to as "well abandonment, or capping a well") has grown common in recent times. Older water supplies often utilized methods, pumping equipment, and locations that fail by today's state public health requirements. Sales of all properties now require disclosures of the existence of old wells. A property seller is often placed with the responsibility of hiring a licensed well sealing contractor to decommission the well. That doesn't mean you simply cut if off and bury it.
Old, unused wells pose a risk to the health and safety of existing in-use wells on your property. Even the neighbors. There have been occurrences where surface containments either flood or enter these wells. They act as a conduit or opening into the earth. Hundreds of thousands of them exist in Minnesota alone. And there's a proper and legal way to seal and abandon wells. Even if there's no sale in progress, you may prefer to seal an old well.
Alberg Water Services is qualified and equipped to legally seal any old unused wells.
Call Steve (612) 961-1821 or Greg (612) 670-9180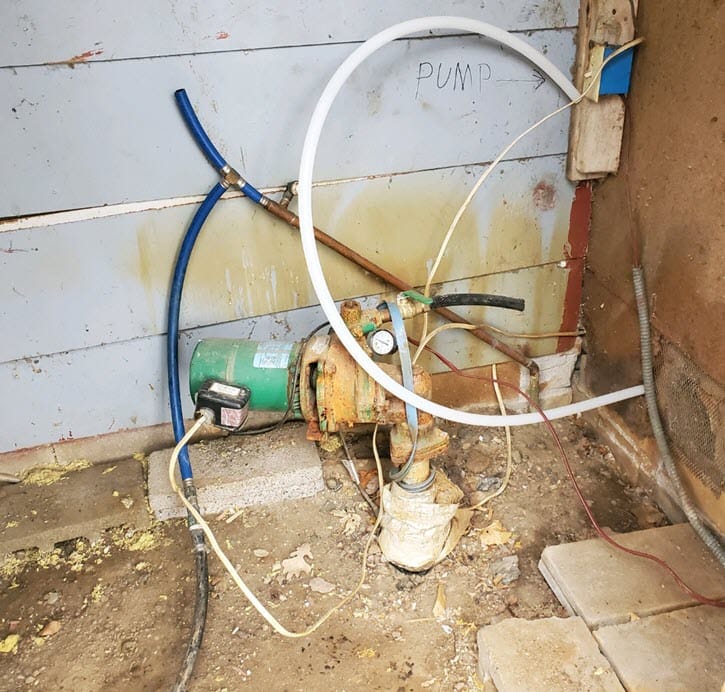 Pictured is a neglected deep well jet pump system on a two-inch diameter well- circa 1960. These are often found installed at older lake properties and rural homes prior to the 1970's. Commonly we determine these are non-repairable. The original installers used little thought in consideration of their serviceability. 60 years later- they're typically junk.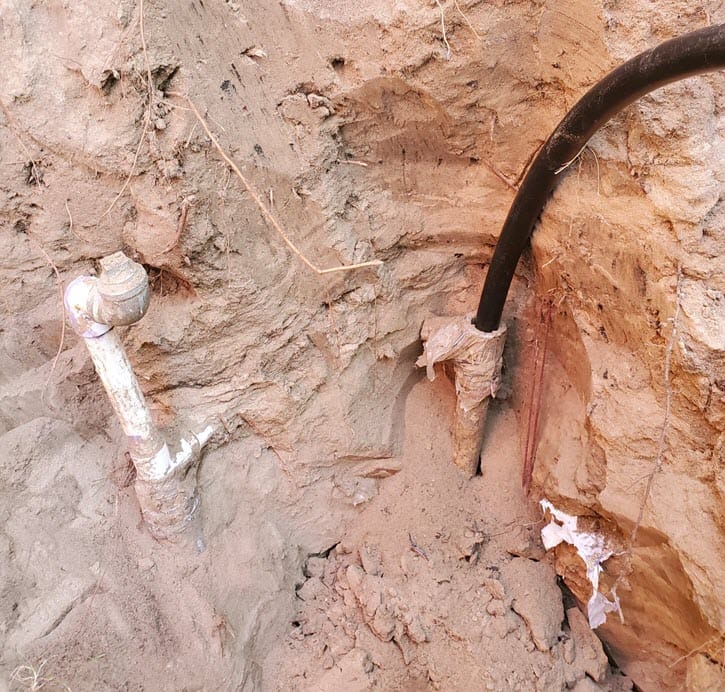 Pictured is a 1 1/4-inch diameter driven shallow well with installation six feet below grade. The pump system is located in basement of the home nearby. This required excavation to locate the well. The well casing is being pumped full of a grout mixture, with an insertion pipe placed to the bottom of the well. A second unexpected well was found next to it.
Pictured is an old well pit. The pump system, well and pressure tank were once commonly found in a pit in the yard. The pit prevented the plumbing and pump from freezing. Generally eight feet in depth or more, these pits are no longer allowed by the State of Minnesota. Due to a confined space, breathable air, collapse concerns, and electrocution hazard, nobody in their right mind should have to go down there. These installations scream for a new, compliant water supply system.
Call Steve (612) 961-1821 or Greg (612) 670-9180