Alberg Water Services enters each and every well project with the tools and experience necessary to succeed in providing excellent water production. Our wells rarely disappoint. We do not rush and cut corners! Special attention to our customer needs and budget is our strength. We strive to provide the customer with the best possible water supply for their home, lake property, farm, or business.
We specialize in well construction in places with limited access for well drilling. Don't assume there isn't a place to drill a well on your lot. Our compact well drilling rig let's us access locations conventional-sized well drilling rigs can't go. So before you give up on the idea of having a well on your property because you think there isn't a way a rig can fit, give us a call! That's where our "compact drill rig" shines!
Call Steve (612) 961-1821 or Greg (612) 670-9180

We were the only well drilling contractor that was able to construct this well for this newly constructed home because of our compact drill rig as shown in the picture. The only access was to cross on the neighbor's property. All other competitors would have needed to cut trees.
Our goal is the best water production obtainable for each and every customer. This is referred to as the well development and test pumping process. Some competitors are known to largely skip over this process. When you see us pumping this much water, you know we've done our job.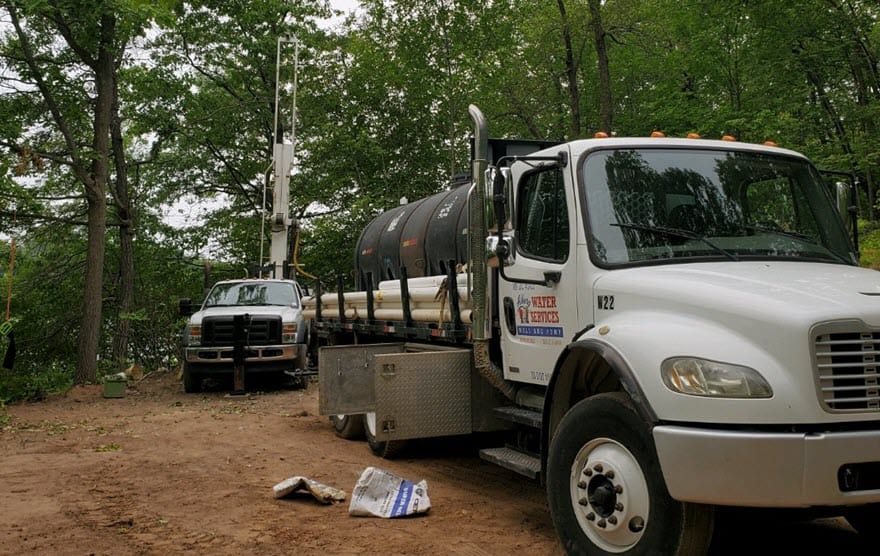 Alberg Water Services is fully equipped with the tools and up-to-date machinery to complete the project in required compliance with the Minnesota well codes and standards. We take great pride in our ability to provide the best products and performance.

Pictured is the construction of a four-inch diameter well with PVC plastic casing. Residential wells in our region are nearly always constructed with plastic.
Call Steve (612) 961-1821 or Greg (612) 670-9180